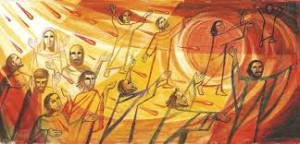 Notices: 4 June 2017, Pentecost 
Today's gospel is read both as a Resurrection and as a Pentecost story. Either way, it is about new life in God. It is about new life in Spirit. It is about new life in Love. Jesus breathes his Love into the disciples, and that experience of deep and intimate Love sets them free – to love themselves as they are, to love every person they meet, and to love all of God's creation. Together lets breaths in deeply of this Divine Love, and as we breathe out that Love, let us be in love with every other. The wild fire of Love which we call Pentecost.
Any individuals who may be interested in our upcoming parish golf tournament and would like to to forma a team or be part of team, let Lynn Clarke or Father Gerald know.
The Annual Parish Golf tournament
has been confirmed for Saturday June 17th at  Pitcher's Pond. Registration and lunch at 12:00 with shot gun start at 1:00. To register or for more info contact Lynn Clarke at
dan.lynn@nf.sympatico.ca
or 683-1270.
Parish Annual Family BBQ and children's games will be on Sunday June 18th at All Hallows school following the liturgy.
When receiving communion from the chalice, in order to aide the eucharistic assistants, please guide the cup to your mouth with your hands.
The Parish is looking for older pictures of the buildings of St.George, St.Augustine, St.Andrew (the old old one and the newer one), and All Saints. And old pictures of the various congregations and events. We are considering framing and mounting these pictures in the Community Wing of our church house.
Father Richard Rohr
is a contemporary leader in the deepening faith and spiritual practice movement throughout the Christian church. If you would like a little more help and encouragement in deepening your own faith and spiritual practice, in addition to what is available in our parish, go to
www.cac.org
, and at the top of that page, subscribe to Father Richard's daily e-mails. I highly recommend it.
"Blue Parking": Please leave parking at entrance and all along the front of Cafe windows for those with disabled parking permits or families with infants.
Automatic deposit and Envelopes: Your responsible financial contribution to the parish is of course very important. Envelops are available on table at entrance to the Oratory.  For more information on automatic deposit, please talk to any of the financial team: Deanna Spicer, Lynn Clarke, Winston Bishop, or Father Gerald.
The Lord Jesus calls us to be a welcoming and Spirit-filled community. As we gather from Sunday to Sunday, and throughout the week,  please make the opportunity to greet and love those whom you don't YET know.