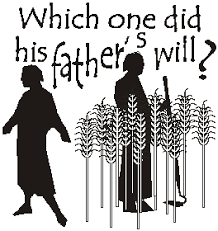 Good day dear friends,
This Sunday we'll hear Jesus tell the story of a father's two sons. Both were asked to go work in the vineyard. One said yes and didn't go. The other said no, but later changed his mind and went to work in the vineyard. One gives lip service to the will of God and does nothing. The other is disobedient at first, but changes and goes and does the will of God. What we say has the real potential to be just a show. The real test is what we do, how we love ourselves and others, how we are kind and compassionate with others, how we serve the needs of others. That is what Love does. That is the will of God.
Love,
Father Gerald+
Notices: 1 October 2017, Proper 26 
Our Annual Fall Bazaar is Saturday, 14th October. Baked goods, preserves, veggies, crafts will be on sale. We will also have face painting for the children and weather permitting pony rides. Hot chilli lunch with fresh roll, dessert tea or coffee served for $8.00. Stop by and celebrate fall with us. Hope to see you there.
Wednesday Community
9am Yoga
11am Holy Communion
12 to 2pm Scones and Tea
All are welcome!
Starting on Wednesday, October 4, Holy Communion will be celebrated at 11am, followed by Scones and Tea. All are welcome.
Is your mind working on overload? Do you go to bed at night with racing thoughts? Are you carrying your inner burdens and worries with you everywhere you go? Or maybe you would simply like to deepen your experience of life? Learning and practicing meditation is a means to bring inner peace, compassion and contentment into our lives.
If you want to learn more about this, a meditation group meets at 7pm on Sundays at the Parish of the Resurrection in South River.  For more information, contact Father Gerald.
Seniors Cafe on Thursday, October 5 from 2 to 4pm. All are welcome.
Please consider the Primate World Relief and Development Fund for donations to relief efforts around the world.
There will be a Gospel  Concert at the Port De Grave Pentecostal Tabernacle on  Oct. 5 at 7 PM. The free will offering will be for the Guatemala mission.
A new Pilgrim's Course (this 6 week section is on the Beatitudes) will begin on Monday, October 2 at 7:30pm in the St.George Conference room. For more info, contact Deacon Gladys or Father Gerald.
The Bereavement Course begins on Thursday, October 5 at 7:30pm in the St.George Conference Room. This is a 5 week program to help individuals understand and integrate their grief at the loss of a loved one. If you or anyone you know is interested, contact Deacon Gladys Harvey at gladysharvey13@gmail.com or 683 2266.
Our parish Youth Choir will begin practicing later this fall. Choir members from last year are invited to return, and any new members. Contact Tiffany Whelan at 222 9569 or tiffanyjoywhalen@gmail.com.
Any youth interested becoming a Altar Server in the Sunday morning worship, contact Father Gerald.
The Christmas Shoe Boxes are now available for those interested at the entrance to the oratory. They need to be returned on November 12 for the blessing.
Automatic deposit and Envelopes: Your responsible financial contribution to the parish is of course very important. Envelops are available on table at entrance to the Oratory.  For more information on automatic deposit, please talk to any of the financial team: Deanna Spicer, Terry Murphy, Winston Bishop, or Father Gerald.