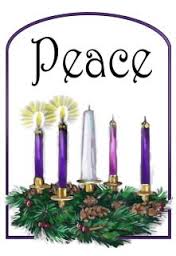 Notices: Advent 2, 10 December 2017
Sunday, December 10 is the 2nd of Advent. In the Gospel for this Sunday we will hear from John the Baptist and his challenge to us to "repent," for there is someone coming after him how doesn't baptise with water but with the Holy Spirit. The One coming is Jesus, the King of Love. Our repenting or changing is the interior obstacles that close us off from the Love that is God. Our practice of prayer during Advent, in silence and simplifying, is about going deeper into the Heart of Love. Jesus baptises us, drenches us with this Love. It is for us to say "yes."
The vestry will meet on Tuesday, December 12 at 7:30 in the St.George meeting room.
Monday, December 18th will be a Church House clean up day. We are inviting both men and women from the congregation to volunteer to help up our House for the Church on that day. Please let Deacon Gladys know if can help out on that day.
Advent and Christmas Liturgy Schedule:
Advent 2, Sunday December 10, 11am
Advent 3, Sunday December 17, 11am
Advent 4, Sunday December 24, 11am
Christmas Eve, December 24
6:30pm Family Liturgy
9pm Candle Light Mass
Sunday Group Meditation session until the new year.
Wednesday Scones and Tea and midweek mass until the new year.
Christmas Buffet Breakfast on Saturday, December 16, from 8 to 11am.
Automatic deposit and Envelopes: Your responsible financial contribution to the parish is of course very important. Envelops are available on table at entrance to the Oratory.  For more information on automatic deposit, please talk to any of the financial team: Deanna Spicer, Terry Murphy, Winston Bishop, or Father Gerald.
Anyone wanting a home visit, to discuss the life of prayer & spiritual living, or any other pastoral need, please take the initiative and contact Father Gerald.
Deacon Gladys is pastorally responsible for those who are sick and shut in. Please let her know if you know of anyone sick or in hospital.
The Church needs your support. Please remember the Parish of the Resurrection when making your wills.
"Blue Parking": Please leave parking at entrance and all along the front of Cafe windows for those with disabled parking permits or families with infants.