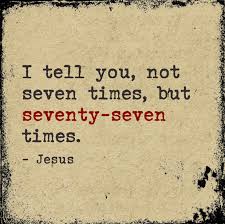 Good day dear friends,
This Sunday we will hear Jesus tell Peter that you are not only to forgive your brother or sister seven times, but seventy times seven times. The more we experience, over and over and over again, the very real and generous forgiveness and love of God, in the very depths of our hearts, the more equipped we become to forgive our brother and sister over and over and over again from the heart. Our capacity to heal from relational wounds is in some way affected by our capacity to forgive.
Our heartfelt sympathy is extended to the family of Stacy Dixon. May he rest in peace.
Buffet breakfast this Saturday in the Emmaus Cafe from 8 to 11am. All are welcome. Come and bring a friend.
Love,
Father Gerald+
Notices: 17 September 2017, Proper 24 
Welcome back to our Children's Church as it has begun with the new school year. Pass the word around!
Back to Church Sunday in on September 24. This is simply an invitation at the end of the summer season to remind and encourage parishioners to reconnect with their community of faith. It is also a opportune time to invite and bring a friend along to our church community. And if there was someone looking for a church community, this and anytime would be a good time to come along.
Our Annual Fall Bazaar is Saturday, 14th October. Baked goods, preserves, veggies, crafts will be on sale. We will also have face painting for the children and weather permitting pony rides. Hot chilli lunch with fresh roll, dessert tea or coffee served for $8.00. Stop by and celebrate fall with us. Hope to see you there.
Our community of the Resurrection is a family that gathers in its own house to learn and practice loving God and loving every other. It is our spiritual home. It is also a home that needs to be cleaned. We are looking for some volunteers who could share some of the responsibility of keeping our Emmaus Cafe clean each week. If you are willing to volunteer for this ministry, please contact Father Gerald.
A new Pilgrim's Course (this 6 week section is on the Beatitudes) will begin on Monday, October 2 at 7:30pm in the St.George Conference room. For more info, contact Deacon Gladys or Father Gerald.
The Bereavement Course
begins on Thursday, October 5 at 7:30pm in the St.George Conference Room. This is a 5 week program to help individuals understand and integrate their grief at the loss of a loved one. If you or anyone you know is interested, contact Deacon Gladys Harvey at
gladysharvey13@gmail.com
or 683 2266.
Our parish Youth Choir
will begin practicing later this fall. Choir members from last year are invited to return, and any new members. Contact Tiffany Whelan at 222 9569 or
tiffanyjoywhalen@gmail.com
.
Any youth interested becoming a Altar Server in the Sunday morning worship, contact Father Gerald.
Chicken and Ribs Dinner
in the Emmaus Cafe,
Saturday, September 23, $30 a ticket. Tickets are available from Lyn Clarke at  683-1270 or
dan.lynn@nf.sympatico.ca
Yoga
will resume on a new day, Wednesday, September 13, from 9 to 10:30am. For more info contact Jen Temple at 231 2066 or
jen.dharma@gmail.com
.
The Sunday lunch ministry is a very important part of our life together as a community. It provides an opportunity to build up relationships within the community, and it gives new members and visitors an opportunity to meet and be included in the common life of the church. We are looking for more  volunteers in providing the Sunday lunches. It could be done as an individual or as a group effort. The lunch does not have to be a big undertaking – soup and or sandwiches is adequate, or you can prepare whatever you choose. Please consider becoming part of this important ministry. Contact Bob Bishop or Father Gerald.
Sunday Lunch Schedule
September
17 Titania and Roy Mercer
24 Pot Luck
October
1 Stacey Escott
8 Bob and Dot Bishop
15 Dan and Lynn
22 Mary Jane Norman family
29 Pot Luck
Sunday Lunches: All are welcome to stay after liturgy for a little bit of lunch and friendship building.
Anyone wanting a home visit, to discuss the life of prayer & spiritual living, receive the sacrament of reconciliation, or any other pastoral need, please take the initiative and contact Father Gerald.
 Deacon Gladys is pastorally responsible for those who are sick and shut in. Please let her know if you know of anyone sick or in hospital.
Please pray for, support and participate in these upcoming ministries: 
Back to Church Sunday, September 24.
Youth Choir, starts later this fall.
Group Meditation, Sunday October 1.
Pilgrim Course starts Monday, October 2.
Afternoon Tea and Scones, will start Wednesday, October 4.
Wednesday Night Bible Study, October 4.
The Bereavement Course starts Thursday, Oct 5.
Male Spiritual Formation Groups in early October.
Knit Wits will start up in early October.
Seniors Cafe, October 5.
Buffet Breakfast, 3rd Saturday of each month.
Automatic deposit and Envelopes: Your responsible financial contribution to the parish is of course very important. Envelops are available on table at entrance to the Oratory.  For more information on automatic deposit, please talk to any of the financial team: Deanna Spicer, Terry Murphy, Winston Bishop, or Father Gerald.
"Blue Parking": Please leave parking at entrance and all along the front of Cafe windows for those with disabled parking permits or families with infants.
When receiving communion from the chalice, in order to aide the eucharistic assistants, please guide the cup to your mouth with your hands.
It is very acceptable to receive Holy Communion in one kind only (Sacred Bread).
For safety reasons, children in our Church House need to be supervised at all times.
The church of the Resurrection can at times be a "huggy" community, but not everybody is comfortable with such forms of greeting. Please be sensitive to others, and not assume such acts of greeting.
The use of a "prayer bowl" (a musical instrument) has been introduced to the liturgy to indicate the times for silent mediation & contemplation after the homily and after communion.
Scent Free Environment: Many people now suffer from allergies. Please, when gathering in our House for the Church, refrain from wearing colognes and perfumes.
The Parish is looking for older pictures of the buildings of St.George, St.Augustine, St.Andrew (the old old one and the newer one), and All Saints. And old pictures of the various congregations and events. We are considering framing and mounting these pictures in the Community Wing of our church house.
Father Richard Rohr
is a contemporary leader in the deepening faith and spiritual practice movement throughout the Christian church. If you would like a little more help and encouragement in deepening your own faith and spiritual practice, in addition to what is available in our parish, go to
www.cac.org
, and at the top of that page, subscribe to Father Richard's daily e-mails. I highly recommend it.