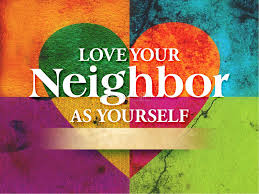 Good day dear friends,
This Sunday we will hear the beautiful Gospel story where Jesus invites us to love God with all of our heart, mind, soul and strength, and to love our neighbour as ourselves. Before we can love our neighbours as they are (warts and all), we have to do the work of our own inner journey and learn to love ourselves (warts and all). That is how God loves us, it is how we are to love one another.
Love
Father Gerald+
Pot Luck lunch this Sunday.
Notices: 29 October 2017, Proper 30
Pot luck lunch this Sunday, October 29. Bring a dish of something along to share with others, as we spend time with each other as a community.
Seniors Cafe on Thursday, November 2 from 2 to 4pm.
Please consider the Primate World Relief and Development Fund for donations to relief efforts around the world.
The website for the Primate's World Relief and Development Fund outreach for Christmas is
The Knit Wits knitting fellowship group has started at a new time on Wednesday's from 1-3pm. All are welcome.
Buffet Breakfast Saturday, October 21, 8-11am.
Annual Memorial Hymn Sing
, has been rescheduled to Sunday,  November 5 at 7pm. To make donations in memory of loved ones, contact Melvin Piercey at
m.piercey@eastlink.ca
or 528-4247.
If you would like to read a reading during the Sunday liturgy, or read the prayers of the people, contact Father Gerald.
Wednesday Community
9am Yoga
11am Holy Communion
12 to 2pm Scones and Tea
1-3pm Knit Wits
All are welcome!
On Wednesdays Holy Communion will be celebrated at 11am, followed by Scones and Tea. All are welcome.
Meditation: Is your mind working on overload? Do you go to bed at night with racing thoughts? Are you carrying your inner burdens and worries with you everywhere you go? Or maybe you would simply like to deepen your experience of life? Learning and practicing meditation is a means to bring inner peace, compassion and contentment into our lives as they are. If you want to learn more about this, a meditation group meets at 7pm on Sundays at the Parish of the Resurrection in South River. For more information, contact Father Gerald.
Annual Christmas Auction will be on Saturday, the 25th of November in our Church House. Contact Deacon Gladys Harvey for tickets and more info.
The Gospel Reading for Sunday, November 5 is Matthew 23:1-12.
Preparing for Sunday Liturgy invites soul care. One of the ways to care for our souls is to daily and prayerfully reflect on the Gospel reading for the coming Sunday. A recommended way to do this prayerfully  each day is:
Listening – read the Gospel passage over slowly and twice. What ever word or phase shimmers or stands out for you, to stay with that word or phrase for a few minutes in meditation.
Meditation – spend a few minutes thinking about what that word or phrase means for you and for the community.
Thanksgiving – next, spend a few minutes in thanksgiving for whatever spiritual fruits that may have come out of your meditation.
Contemplation – to conclude this time of prayer, spend a few minutes simply resting in your awareness of God's love for you.
The Christmas Shoe Boxes are now available for those interested at the entrance to the oratory. They need to be returned on November 12 for the blessing.
5th Annual pj and book giving celebration: Sleep Tight 2017
. For more information and to make donations contact Lindsay Parsons at
lindsayparsons@outlook.com
. Accepting donations of new pajama's and new books for the children of the Janeway and other children within our communities.
Automatic deposit and Envelopes: Your responsible financial contribution to the parish is of course very important. Envelops are available on table at entrance to the Oratory.  For more information on automatic deposit, please talk to any of the financial team: Deanna Spicer, Terry Murphy, Winston Bishop, or Father Gerald.
The Church needs your support. Please remember the Parish of the Resurrection when making your wills.
Financial Report
3rd Quarter Summary:
Total in:
$66,204 free will (down $2044 over same period last year)
$40,060 Fundraising and other (down $2,004 over same period last year)
Total Income: $106,664 (down $4049 over same period last year)
Total out:
$100,876 Expenses (down $4168 over same period last year)
$8666 Mortgage
Net Position: $119 up over same period last year.
For our 3rd quarter of 2017, our free will offerings and total net income are down approx $4000 over the same period last year and we find ourselves running a deficit of approx $3000. On a positive note, our expenses are down by approx $4000 putting our overall net position on par with last year. However, a downward trend in income is always concerning and needs our attention to get us back on track for the last quarter of the year. Our parish continues to do great work in our region. Please consider direct deposit as a way to support our parish ministries. We thank you for your continued support. Finance team.
Home Again:  'Home Again' is currently low in stock of certain items: beds, kitchen tables and chairs, dressers, lamps, pots and pans, and double and twin sheet sets/comforters. If anyone is able to donate some of these over the next few weeks, it will greatly help families in need. Presently there are 58 individuals on the waiting list in desperate need of furniture and household items. (You have to deliver the items to the Home Again furniture bank yourself from CBN).
Movie Night in the Oratory of the Resurrection:
Join us on Friday, November 10th at 7pm for the movie based on the best selling book "The Shack." Coffee, tea and social time will follow afterwards in the Emmaus Cafe. There is no cost for this event, but donations will be accepted to help cover the cost of the movie licence. For more information contact Winston Bishop at 683-0180 or
wbishop@wbfinancial.ca
.
Anyone wanting a home visit, to discuss the life of prayer & spiritual living, receive the sacrament of reconciliation, or any other pastoral need, please take the initiative and contact Father Gerald.
 Deacon Gladys is pastorally responsible for those who are sick and shut in. Please let her know if you know of anyone sick or in hospital.
"Blue Parking": Please leave parking at entrance and all along the front of Cafe windows for those with disabled parking permits or families with infants.
Scent Free Environment: Many people now suffer from allergies. Please, when gathering in our House for the Church, refrain from wearing colognes and perfumes.