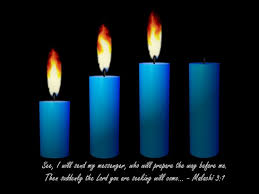 Good day dear friends,
On the 3rd Sunday of Advent we hear again from John the Baptist, we hear about his witness to the coming of the Messiah, the Christ. The Christ, the Love that is God came to us not only in Jesus of Nazareth 2000 years ago, but comes to us in every new moment. Advent calls us to wake up to this beautiful truth that Love comes to us in every moment of our lives. Like John, how are you witnessing to this Christmas Love in your life?
Christmas buffet breakfast this Saturday in the Emmaus Cafe from 8 to 11am.
Volunteers to help clean our Church House on Monday, beginning at 9:30am.
Our 9pm Christmas Eve Candle Light Mass this year will be candle light for the whole of the liturgy, with candles placed throughout the oratory. All are welcome.
Love
Father Gerald+
Notices: Advent 3, 17 December 2017
Advent and Christmas Liturgy Schedule:
Advent 2, Sunday December 10, 11am
Advent 3, Sunday December 17, 11am
Advent 4, Sunday December 24, 11am
Christmas Eve, December 24
6:30pm Family Liturgy
9pm Candle Light Mass
Sunday Group Meditation session until the new year.
Wednesday Scones and Tea and midweek mass until the new year.
Christmas Buffet Breakfast on Saturday, December 16, from 8 to 11am.
Anglican Youth Group
will be having a Christmas Party on Friday January 5 from 7 to 9p.m. at St. Luke's Hall, Port-de-Grave for ages 12 and over. There will be a gift exchange. Young people are invited to come with a gift to the value of $12 suitable for their gender. For more info contact Archdeacon Bill Strong at
wstrong1450@gmail.com
.
Queen's College Winter Semester 2018
 has a wide variety of courses and programs designed to help individuals and groups study theology, develop pastoral skills and grow spiritually. Courses are available on-campus in St. John's, on-line in real-time and by correspondence as part of degree and non-degree programs. For more information, go to 
www.queenscollegenl.ca
 or call 1-877-753-0116, or e-mail 
provostqueenscollege@mun.ca
Automatic deposit and Envelopes: Your responsible financial contribution to the parish is of course very important. Envelops are available on table at entrance to the Oratory.  For more information on automatic deposit, please talk to any of the financial team: Deanna Spicer, Terry Murphy, Winston Bishop, or Father Gerald.
Anyone wanting a home visit, to discuss the life of prayer & spiritual living, or any other pastoral need, please take the initiative and contact Father Gerald.
Deacon Gladys is pastorally responsible for those who are sick and shut in. Please let her know if you know of anyone sick or in hospital.
"Blue Parking": Please leave parking at entrance and all along the front of Cafe windows for those with disabled parking permits or families with infants.
Scent Free Environment: Many people now suffer from allergies. Please, when gathering in our House for the Church, refrain from wearing colognes and perfumes.
Please consider the Primate World Relief and Development Fund for donations to relief efforts around the world.
The website for the Primate's World Relief and Development Fund outreach for Christmas is