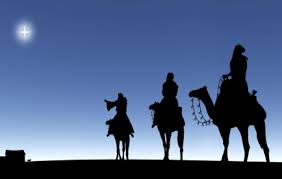 Notices: Epiphany, 7 January 2018
Today is the feast of the Epiphany, the revealing of Christ to the nations. This is not just the historical Jesus of Nazareth, it is the revealing of the Cosmic Christ, the Universal Christ that is the Heart of All of Life. This is the Good News that gives meaning and purpose to to life.
Old Christmas Day pot luck following the liturgy. All are welcome.
January's Fundraiser is tickets on a snowblower. The draw will be on Friday, February 2. Tickets are available from Lynn Clarke at 683-1270 or dan.lynn@nf.sympatico.ca.
Confirmation classes will begin in late January or early February. Register with Marie Taylor or Father Gerald.
This is a particularly hard time of year for people in need. Please remember to bring donations of food for our Helping Hand basket.
Sunday Group Meditation session until the new year.
Wednesday Scones and Tea and midweek mass until the new year.
Ministry Schedule:
Breakfast and Bible Study: Sundays at 9am.
The Holy Eucharist is celebrated on Sundays at 11am.
Children's Church: Sundays at 11am.
Community Lunch: Sunday's at noon.
Pot Luck Lunch: Last Sunday of each month.
Christian Meditation: Sunday's at 7pm
Pilgrim Course: Mondays at 7:30pm
Administration: Tuesday's at 7:30pm.
Male Spirituality Group 1: 3rd Tuesday of each month.
Male Spirituality Group 2: 4th Tuesday of each month.
Yoga: Wednesday's at 9am
Holy Eucharist Wednesday's at 11am
Scones and Tea: Wednesdays from 1 to 3pm.
Knit Wits: Wednesday's from 1-3pm.
Youth Choir: Wednesdays at 6:30pm.
Parish Band: Wednesday's at 8pm.
Seniors Cafe: 1st Thursday of each month from 2-4pm.
Bereavement Support Group, 2nd Thursday of each month at 7:30pm.
Buffet Breakfast the 3rd Saturday of each month from 8am to 11am.
Automatic deposit and Envelopes: Your responsible financial contribution to the parish is of course very important. Envelops are available on table at entrance to the Oratory.  For more information on automatic deposit, please talk to any of the financial team: Deanna Spicer, Terry Murphy, Winston Bishop, or Father Gerald.
Anyone wanting a home visit, to discuss the life of prayer & spiritual living, or any other pastoral need, please take the initiative and contact Father Gerald.
Deacon Gladys is pastorally responsible for those who are sick and shut in. Please let her know if you know of anyone sick or in hospital.
Queen's College Winter Semester 2018
 has a wide variety of courses and programs designed to help individuals and groups study theology, develop pastoral skills and grow spiritually. Courses are available on-campus in St. John's, on-line in real-time and by correspondence as part of degree and non-degree programs. For more information, go to 
www.queenscollegenl.ca
 or call 1-877-753-0116, or e-mail 
provostqueenscollege@mun.ca
"Blue Parking": Please leave parking at entrance and all along the front of Cafe windows for those with disabled parking permits or families with infants.