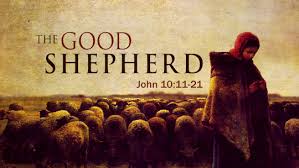 Good day dear friends,
The Gospel this Sunday is about Jesus as both the Shepherd and the Gate. Jesus invites us and will lead us, if we choose to follow him, to a deeper and more connected life in the Love that is God.
Annual Parish Spring Auction is this Saturday. Tickets are still available. Contact Deanna Spicer at 589-5340 or 
dr.dmspicer@nf.sympatico.ca
.
Love,
Father Gerald+
Notices: 7 May 2017, Easter 4
Alleluia! Christ is Risen! The Lord is Risen indeed! Alleluia!
Today's beautiful Gospel is Jesus telling us he is both the Shepherd and the Gate. Jesus himself has to first go through the gate into the deeper Life of God. Because he knows the way, he is the Way, he can shepherd us and lead us into the deeper, relational Life of God. The invitation is there, and he is inviting you.
Baptism Preparation. Today we welcome Jacob Felix Thomey as he and his family prepare for Holy Baptism. Let us keep them in our prayers and love.
Holy Baptism. Today we welcome into the Body of Christ: Odin David Brian Alfred Fisher. Let us commit to growing  together in the Love that is God.
Baptismal People
For most of the 20th century, the Church of all denominations has been renewing her baptismal theology. Our baptism is a participation in the death and resurrection of Christ; it is a receiving of the Holy Spirit; it is the washing away of sin; it is full and equal entry into the faith community, the Church; it is a commitment to the shared ministry of all believers. The water of the font is central to our lives as Christians. Therefore it needs a central place in our liturgical space in order for us to more fully recover its sacred function. So lets get acquainted with going to the font, touching the water, renewing our baptismal promises, and let us welcome its use in our common life and liturgy, reminding us of our death and resurrection in Christ, of our being washed clean, forgiven and set free to participate in the eternal life of Love.
Buffet Breakfast Saturday, May 20.
Roy and Tania Mercer have recently been on a mission to Guatemala. They will give a picture presentation following liturgy and lunch on Sunday, May 28. They will give a report on our parish sponsor child, and on other children who are sponsored by parishioners.
Tania Mercer and Stacey Escott have recently completed Godly Play training, and we welcome them to the team of parish Godly Play story tellers.
When receiving communion from the chalice, in order to aide the eucharistic assistants, please guide the cup to your mouth with your hands.
Meditation for beginners and those experienced on Sunday evenings at 7pm. All are welcome.
Father Richard Rohr
is a contemporary leader in the deepening faith and spiritual practice movement throughout the Christian church. If you would like a little more help and encouragement in deepening your own faith and spiritual practice, in addition to what is available in our parish, go to
www.cac.org
, and at the top of that page, subscribe to Father Richard's daily e-mails. I highly recommend it.
The ministry of Wednesday Scones and Tea is completed for this season and will resume in September.
2017 Vestry
Rector's Warden: Terry Murphy
People's Warden: Deanna Spicer
Treasurer: Winston Bishop
Secretary: Stacey Escott
Fund Raising Chair: Lynn Clarke
Tyson Pye
Bob Bishop
Jim Escott
Lorne Taylor
Marilyn Wilson