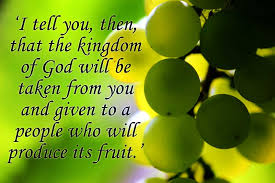 Good day dear friends,
This Sunday we will hear the Gospel story where Jesus tells the "religious" people of the day that they have missed the whole point. That is true of most of religious institutions in every generation. That does not mean that most of religion is bad. What it does mean is that religion and religious people need to constantly rediscover who they are and what they are about – not only historically, but in the constant evolving of each of our hearts and minds. For Christians what Jesus does is show us the Way to discover the Truth about who we, made in the Divine Love image, connected to all of Life.
Notices: 8 October 2017, Proper 27 
Happy Thanksgiving! We have much to be thankful for. Let us strive to share something of what we have with those less fortunate, especially remembering those places recovering from natural disaster and conflict.
Please consider the Primate World Relief and Development Fund for donations to relief efforts around the world.
Holy Baptism. Today we welcome into the Body of Christ: Adeline Nicole Barbara Keeping. Let us commit to deepening together in the Love that is God.
Our Annual Fall Bazaar is Saturday, 14th October. Baked goods, preserves, veggies, crafts will be on sale. We will also have face painting for the children and weather permitting pony rides. Hot chilli lunch with fresh roll, dessert tea or coffee served for $8.00. Stop by and celebrate fall with us. Hope to see you there.
The Vestry will on Tuesday, October 10, 7:30pm in the St.George room.
Buffet Breakfast Saturday, October 21, 8-11am.
Annual Memorial Hymn Sing, Sunday, 29 October at 7pm. To make donations in memory of loved ones, contact Melvin Piercey at m.piercey@eastlink.ca or 528-4247.
If you would like to read a reading during the Sunday liturgy, or read the prayers of the people, contact Father Gerald.
Wednesday Community
9am Yoga
11am Holy Communion
12 to 2pm Scones and Tea
All are welcome!
Starting on Wednesday, October 4, Holy Communion will be celebrated at 11am, followed by Scones and Tea. All are welcome.
Meditation: Is your mind working on overload? Do you go to bed at night with racing thoughts? Are you carrying your inner burdens and worries with you everywhere you go? Or maybe you would simply like to deepen your experience of life? Learning and practicing meditation is a means to bring inner peace, compassion and contentment into our lives as they are. If you want to learn more about this, a meditation group meets at 7pm on Sundays at the Parish of the Resurrection in South River. For more information, contact Father Gerald.
A new Pilgrim's Course (this 6 week section is on the Beatitudes) has begun on Monday nights at 7:30pm in the St.George Conference room. For more info, contact Deacon Gladys or Father Gerald.
The Bereavement Course begins on Thursday, October 5 at 7:30pm in the St.George Conference Room. This is a 5 week program to help individuals understand and integrate their grief at the loss of a loved one. If you or anyone you know is interested, contact Deacon Gladys Harvey at gladysharvey13@gmail.com or 683 2266.
The Gospel Reading for Sunday, October 15 is Matthew 22:1-10.
Preparing for Sunday Liturgy invites soul care. One of the ways to care for our souls is to daily and prayerfully reflect on the Gospel reading for the coming Sunday. A recommended way to do this prayerfully  each day is:
Listen – read the Gospel passage over slowly and twice. What ever word or phase shimmers or stands out for you, to stay with that word or phrase for a few minutes in meditation.
Meditation – spend a few minutes thinking about what that word or phrase means for you and for the community.
Thanksgiving – next, spend a few minutes in thanksgiving for whatever spiritual fruits that may have come out of your meditation.
Contemplation – to conclude this time of prayer, spend a few minutes simply resting in your awareness of God's love for you.
The Christmas Shoe Boxes are now available for those interested at the entrance to the oratory. They need to be returned on November 12 for the blessing.
Our parish Youth Choir will begin practicing later this fall. Choir members from last year are invited to return, and any new members. Contact Tiffany Whelan at 222 9569 or tiffanyjoywhalen@gmail.com.
Any youth interested becoming a Altar Server in the Sunday morning worship, contact Father Gerald.
Automatic deposit and Envelopes: Your responsible financial contribution to the parish is of course very important. Envelops are available on table at entrance to the Oratory.  For more information on automatic deposit, please talk to any of the financial team: Deanna Spicer, Terry Murphy, Winston Bishop, or Father Gerald.
The Sunday lunch ministry is a very important part of our life together as a community. It provides an opportunity to build up relationships within the community, and it gives new members and visitors an opportunity to meet and be included in the common life of the church. We are looking for more  volunteers in providing the Sunday lunches. It could be done as an individual or as a group effort. The lunch does not have to be a big undertaking – soup and or sandwiches is adequate, or you can prepare whatever you choose. Please consider becoming part of this important ministry. Contact Bob Bishop or Father Gerald.
Sunday Lunch Schedule
October
8 Bob and Dot Bishop
15 Dan and Lynn
22 Mary Jane Norman family
29 Pot Luck
Sunday Lunches: All are welcome to stay after liturgy for a little bit of lunch and friendship building.
Yoga has resumed on a new day, Wednesday, September 13, from 9 to 10:30am. For more info contact Jen Temple at 231 2066 or jen.dharma@gmail.com.
Anyone wanting a home visit, to discuss the life of prayer & spiritual living, receive the sacrament of reconciliation, or any other pastoral need, please take the initiative and contact Father Gerald.
Deacon Gladys is pastorally responsible for those who are sick and shut in. Please let her know if you know of anyone sick or in hospital.
Father Richard Rohr is a contemporary leader in the deepening faith and spiritual practice movement throughout the Christian church. If you would like a little more help and encouragement in deepening your own faith and spiritual practice, in addition to what is available in our parish, go to www.cac.org, and at the top of that page, subscribe to Father Richard's daily e-mails. I highly recommend it.
"Blue Parking": Please leave parking at entrance and all along the front of Cafe windows for those with disabled parking permits or families with infants.
Scent Free Environment: Many people now suffer from allergies. Please, when gathering in our House for the Church, refrain from wearing colognes and perfumes.