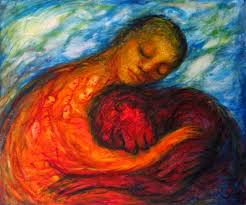 Good day dear friends,
This Sunday we will hear Jesus teach us about how Love is to respond when someone "sins" against you. The purpose of the Church, and the very purpose and meaning of our lives is to be in "right relationship" with God and with each other. The Way of Jesus is the invitation to follow him in the becoming of Love in our lives, AS our lives. We cannot control what another person will do or say. But what we can do, in following the pattern of Jesus, is learn to die to our ego fear and hurts, to open up our controlling, judging minds, and to see and experience others from our deeper spiritual heart, the compassionate and non judgemental Mind of Christ, our deepest and truest self.
Children's Church begins this Sunday. Come along and pass the word around.
We will also be blessing the childdren's school backpacks this Sunday as they begin a new school year. So bring those along also.
Love
Father Gerald+
Notices: 10 September 2017, Proper 23 
Welcome back to our Children's Church as it begins on Sunday, September 10. Pass the word around!
Blessing of the Backpacks: We will bless the children's school backpacks on Sunday, September 10. Bring your children or grandchildren along with their school backpacks for blessing as they begin a new school year.
Our parish Youth Choir will begin practicing later this fall. Choir members from last year are invited to return, and any new members. Contact Tiffany Whelan at 222 9569 or tiffanyjoywhalen@gmail.com.
Any youth interested becoming a Altar Server in the Sunday morning worship, contact Father Gerald.
Chicken and Ribs Dinner in the Emmaus Cafe, Saturday, September 23, $30 a ticket. Tickets are available from Lyn Clarke at  683-1270 or dan.lynn@nf.sympatico.ca
Yoga will resume on a new day, Wednesday, September 13, from 9 to 10:30am. For more info contact Jen Temple at 231 2066 or jen.dharma@gmail.com.
The Vestry will meet on Tuesday, September 12, 7:30pm in the St.George conference room.
The Sunday lunch ministry is a very important part of our life together as a community. It provides an opportunity to build up relationships within the community, and it gives new members and visitors an opportunity to meet and be included in the common life of the church. We are looking for more  volunteers in providing the Sunday lunches. It could be done as an individual or as a group effort. The lunch does not have to be a big undertaking – soup and or sandwiches is adequate, or you can prepare whatever you choose. Please consider becoming part of this important ministry. Contact Bob Bishop or Father Gerald.
Sunday Lunch Schedule
September
10 Danielle and Jean Dawe
17 Titania and Roy Mercer
24 Pot Luck
October
1 Stacey Escott
8 Bob and Dot Bishop
15 Dan and Lynn
22 Mary Jane Norman family
29 Pot Luck
Sunday Lunches: All are welcome to stay after liturgy for a little bit of lunch and friendship building.
Please pray for, support and participate in these upcoming ministries: 
Back to Church Sunday, September 24.
Youth Choir, starts later this fall.
Group Meditation, Sunday October 1.
Pilgrim Course starts Monday, October 2.
Afternoon Tea and Scones, will start Wednesday, October 4.
Wednesday Night Bible Study, October 4.
The Bereavement Course starts Thursday, Oct 5.
Male Spiritual Formation Groups in early October.
Knit Wits will start up in early October.
Seniors Cafe, October 5.
Buffet Breakfast, 3rd Saturday of each month.
Automatic deposit and Envelopes: Your responsible financial contribution to the parish is of course very important. Envelops are available on table at entrance to the Oratory.  For more information on automatic deposit, please talk to any of the financial team: Deanna Spicer, Terry Murphy, Winston Bishop, or Father Gerald.