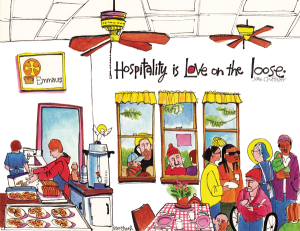 Good day dear friends,
This Sunday we will hear the absolutely beautiful story of the Road to Emmaus – over the sharing of a meal and hospitality, the two disciples encounter the Risen Christ in the stranger. Thats what Love does, it awakens our hearts and our eyes so that we can see and feel Love's Presence in others, even in strangers. Resurrection is about the awakening of our hearts to God's Presence, Christ's Presence, Love's Presence.
Love,
Father Gerald+
Wings Takeout
Friday, April 28. For more info, contact Gary Myrden at 683 8626 or
gary.myrden@gmail.com
, or Bob at 683-0879 or bobbishop2015@outlook.com.
The Annual Meeting is scheduled for Sunday, April 30, following a community pot luck lunch.
Notices: 30 April 2017, Easter 3
Alleluia! Christ is Risen! The Lord is Risen indeed! Alleluia!
Todays Gospel is a story of the way God can walk with us in surprising, often unknown ways. Reversing our path from fear and disappointment to make of us bearers of the power of the Risen One.
Annual Spring auction is Saturday, May 6.
This is one of our two major fund raisers for the year. Your support in donations of gift cards, auction items, desserts for the auction, and of course, spending money at the auction, are all very important. Tickets are $50. For more info contact Deanna Spicer at 589-5340 or
dr.dmspicer@nf.sympatico.ca
.
Tania Mercer and Stacey Escott have recently completed Godly Play training, and we welcome them to the team of parish Godly Play story tellers.
When receiving communion from the chalice, in order to aide the eucharistic assistants, please guide the cup to your mouth with your hands.
Seniors Cafe, Thursday, May 4 from 2 to 4pm.
Meditation for beginners and those experienced on Sunday evenings at 7pm. All are welcome.
Father Richard Rohr
is a contemporary leader in the deepening faith and spiritual practice movement throughout the Christian church. If you would like a little more help and encouragement in deepening your own faith and spiritual practice, in addition to what is available in our parish, go to
www.cac.org
, and at the top of that page, subscribe to Father Richard's daily e-mails. I highly recommend it.
This year's Convocation of Queen's College will be on Thursday, May 04, 2017 at 7:30 p.m. at St. Mary the Virgin Church, 1 Cornwall Crescent, St. John's.
   Thirty-four new graduates will be recognized with the degrees of Master of Divinity, Master of Theology, Bachelor of Theology degrees, along with the Associate in Theology and the Diploma in Theology and Ministry. Also, the Reverend Thomas Moulton will receive the degree of Doctor of Divinity (Honoris Causa).
     The Most Rev'd Percy Coffin, Metropolitan of the Ecclesiastical Province of Canada, Bishop of Western Newfoundland, and Chancellor of Queen's College will preside at Convocation. The Most Rev'd Jane Alexander, Bishop of Edmonton, deliver the convocation address.
Scones and Tea every Wednesday in our Emmaus Cafe from 1 to 3pm. Fresh baked scones (and other pastries), with tea or coffee will be available in our warm cafe environment for anyone to come along and enjoy with a friend. And if you are looking for a friend, you'll find one here! All are welcome.
Sunday Lunches: All are welcome to stay after liturgy for a little bit of lunch and friendship building.
Sunday Community Lunch
23 April: Gary and Sharon Myrden
30 April: Pot Luck
7 May: Gladys Harvey
14 May: Mother's Day
21 May: Valerie Westcott
29 May: Pot Luck
4 June: Alfred and Glenda Efford
11 June: Kate and Loyd Mugford
18 June: Pot Luck