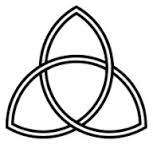 Notices: 11 June 2017, Holy Trinity 
Today is the feast of the Holy Trinity. This is the foundational revelation in the Way of Jesus. At our deepest core, our deepest self, we are made for relationship with God, with each other and with all of creation. Jesus shows us the Divine Way, the Divine pattern: I am in the Father and the Father is in me. I am in you and you are in me." The same Spirit that reconciles and makes One the Father and the Son, is the same Spirit, the same Love that reconciles and makes you and I one with each other, one with the cosmos. This is the Trinitarian pattern, the Trinitarian Life that Jesus invites us into, to "follow" him in "The Way." Our yes to Love is yes to the reconciling life of the Holy Trinity.
Any individuals who may be interested in our upcoming parish golf tournament and would like to to forma a team or be part of team, let Lynn Clarke or Father Gerald know.
The Annual Parish Golf tournament
has been confirmed for Saturday June 17th at  Pitcher's Pond. Registration and lunch at 12:00 with shot gun start at 1:00. To register or for more info contact Lynn Clarke at
dan.lynn@nf.sympatico.ca
or 683-1270.
Parish Annual Family BBQ and children's games will be on Sunday June 18th at All Hallows school following the liturgy.
Vacation Bible School will be held at Grace United Church, Coley's Point Monday July 3 to Friday July 7 from 9:00am-12:00pm. Registration forms will be available on Sunday. For more info contact Lynn Clarke at 683-1270.
Annual congregational meeting with reviewed financial statements for 2016 is scheduled for Tuesday, June 13, 7:30pm in the St.George conference room.
Pastoral/Spiritual Care is available to all who enter an Eastern Health facility. To avail of this ministry of the church, upon admission, you (or your next of kin) will be asked if you would like to receive pastoral care. If you answer 'yes' and state your denomination you will be added to the list of patients to be visited by the chaplain and/or pastoral visitor. If you answer 'no' your choice will be respected and you will not receive a pastoral visit. Should you later change your mind please advise the nurse or the Pastoral Care office at 777-6959. Chaplains are bound by the Protection of Information Act. Chaplains can only advise your parish clergy of your admission with your consent. For the past three years the Anglican, Roman Catholic, Salvation Army and United Church denominations have worked together to provide a First Call Chaplain for after hours calls (5pm-7am) at the Health Sciences, Miller Centre, St. Clare's and Waterford Hospitals. The chaplain on call will respond and can make contact with the denominational chaplain if requested or needed. The denominational chaplain will continue to visit during regular daytime hours (7am – 5pm).
Automatic deposit and Envelopes: Your responsible financial contribution to the parish is of course very important. Envelops are available on table at entrance to the Oratory.  For more information on automatic deposit, please talk to any of the financial team: Deanna Spicer, Terry Murphy, Winston Bishop, or Father Gerald.